1891
In 1891 a young, talented master watchmaker, Henri-Frédéric Sandoz, founded the Tavannes Watch Company in a small Swiss village, Tavannes, in the Jura mountains. He and his partners, Schwob Frères, soon opened markets around the world, notably in Canada, Russia, United States, and the Far East.
1895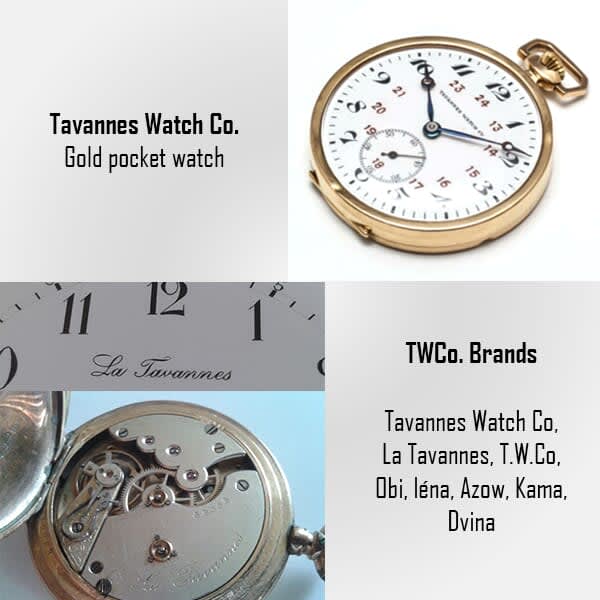 Entry of Tavannes Watch Co, manufacture and sale of watches - founded on September 9, 1895 - in the Swiss Trade Register. November 20, 1895 Filing of the brands Tavannes Watch Co, La Tavannes, T.W.Co, Obi, léna, Azow, Kama, Dvina, watches, watch parts, cases and packaging.
1899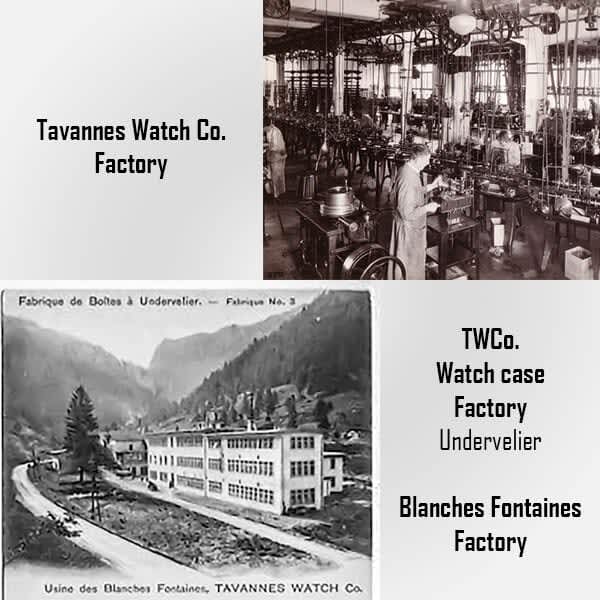 Undervelier - Tavannes Watch Co is building a watch case factory at the entrance to the Pichoux gorges.
1902
It was during this time that watches were becoming popular. Industrializati on and the expansion of the railroad system made a standardized time necessary. The United Kingdom, in 1884, set its time to Greenwich Mean Time and it really established the watch business as we know it today.
1904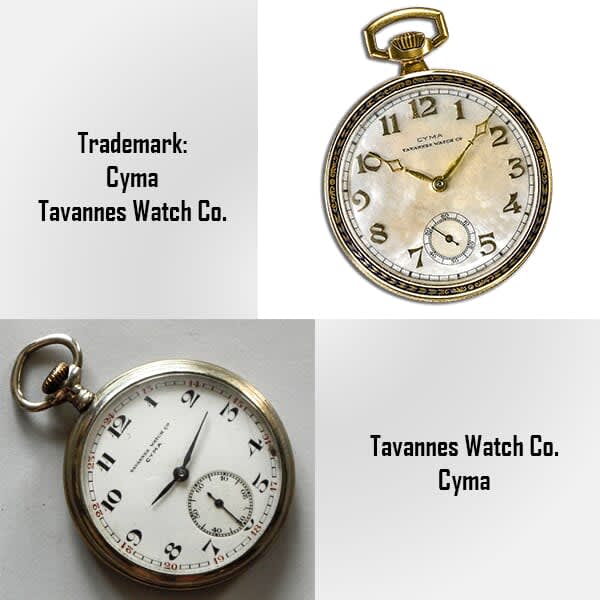 Tavannes registers trademark Cyma Tavannes Watch Co.
1905
By 1905, the 750 employees produced 450 000 watches a year and the producti on grew very fast to reach 750 000 pieces made by 950 employees in 1909.
1907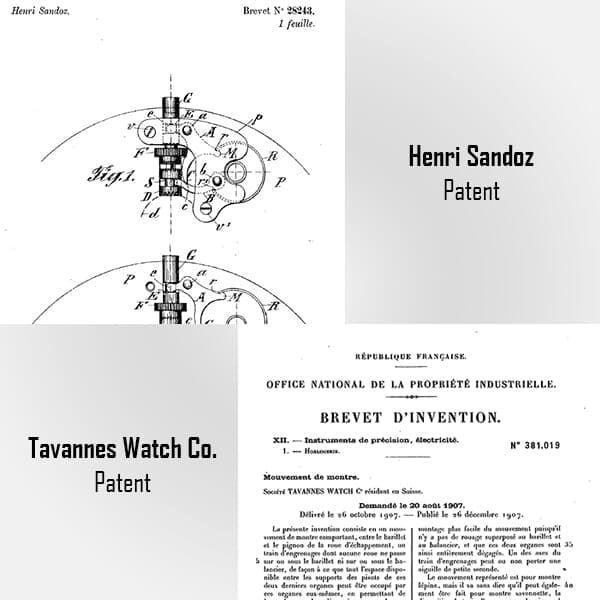 Henri-Frédéric Sandoz was a prolific inventor. Between 1889 and 1907 he registered 39 patents for improvements to watches in his own name, and a 11 more were registered by the Tavannes Watch Co. SA under his direction before his death in 1913.
1909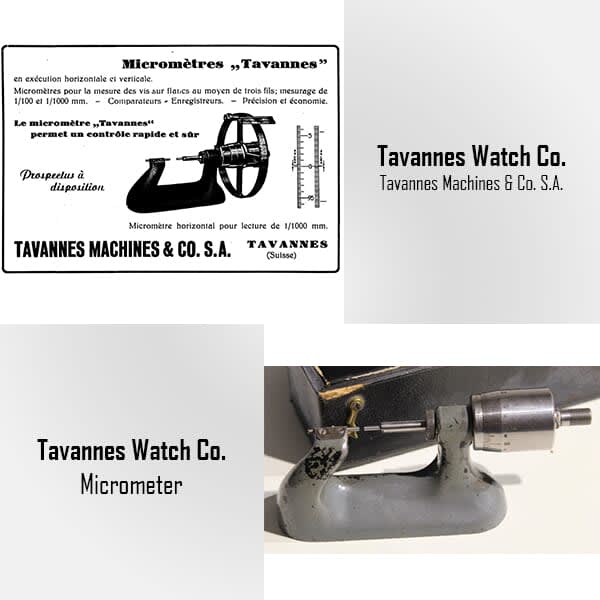 Since 1909, Tavannes Watch Co workshops have also produced the measuring instruments necessary for this activity, micrometers, including foot micrometers, for watchmaking and mechanics.
1910
Tavannes Watch Co won the Grand Prix for daily production at the Exhibition Universal of Brussels: 2,500 watches per day. The numbers are there, revealing the tremendous industrial take-off of theTavannes Watch Co.
1913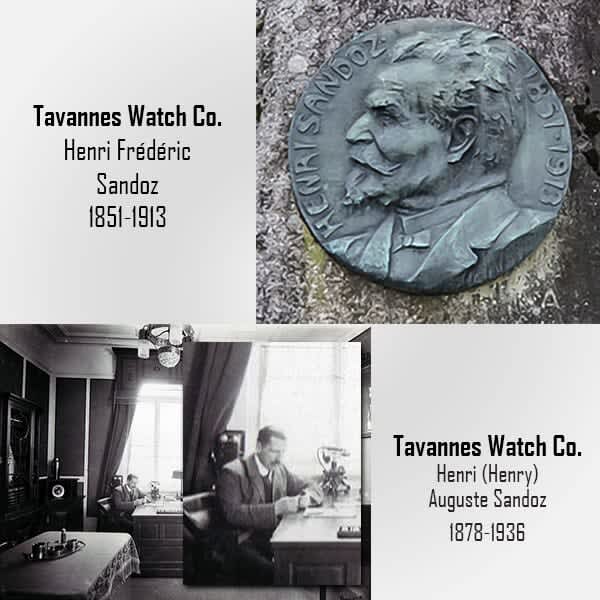 Henri Frédéric Sandoz died at the age of 62 years, his sons followed his path, Henri Auguste Sandoz succeeded his father as director of the Tavannes Watch Co.
1914
Thanks to its constant innovation, Tavannes Watch Co won the Gold Medal at the Grand Prix de Berne in 1914. Tavannes Watch Co. sets up a companyfounded in 1914 in Tokyo by Kono Shohei and managed by a former technical executive from Kintaro Hattori (Seiko & Citizen Watch Co.), assembles Tavannes Watch watchessold under the Pacific brand.
1915
The company's 20th-century product range naturally included wristwatches of the most diverse character for example the shock-proof models with a protective cover over the fragile crystal glass that were issued to soldiers in 1915 now called the "trench watch".
1917
During WWI, the Tavannes Watch Co was approached by two British submarine commanders to consider the construction of a watch suitable for work on submarine decks awash in water - This watch was supposed to be water-tight, non-magnetic, and the balance wheel had to be of a material which shows a minimum of expansion and contraction with variations in temperature - The face had to be legible at all times - In 1917 was born the first waterproof wrist watch made by the Tavannes Watch Company.
1919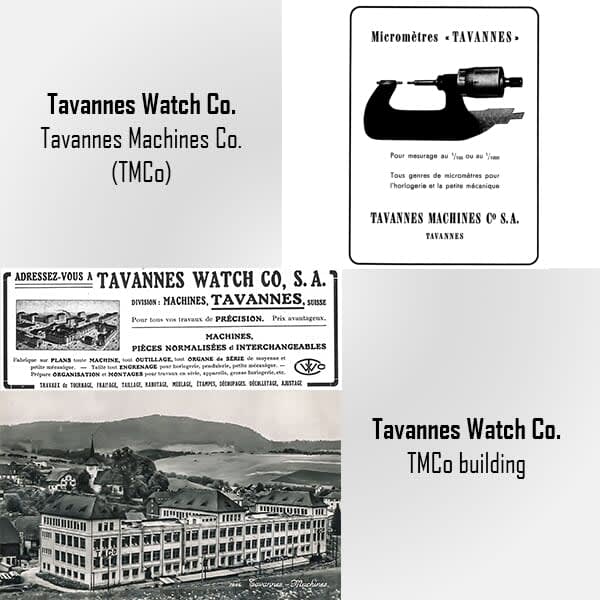 From 1918, a new building, built in the same style as the TWCo and in the immediate vicinity of the latter, now accommodates the machine and measuring instrument activities of the watchmaking company, the latter having grown in importance over the years. The machine tools, first developed to ensure the in-house manufacturing of the various watch components, are then produced in series and intended for sale outside the company. Success was quickly achieved since between 1900 and 1930, 2000 machines were marketed by the unit now called Tavannes Machines Co. (TMCo).
1926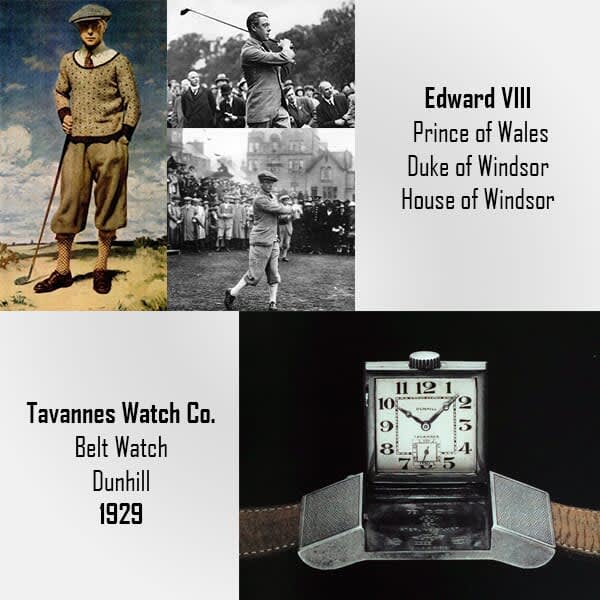 Around 1926, Tavannes was presented with a challenge. The man who would eventually be crowned king Edward VIII of England (yes, the one who gave up the throne to marry American socialite Wallis Simpson) commissioned Tavannes to make him a custom watch that could be worn as a belt buckle while playing golf. With a discreet press of a small butt on, the watch porti on of the buckle would fl ip open at an approximate 90 degree angle to its case. In this positi on, the ti me could be read.
1929
Thanks to its constant innovati on and patented new systems, Tavannes Watch Co won the Gold Medal at the Grand Prix de Barcelone in 1929. An extra thin movement was included in a 100 pesetas Spanish gold coin and the first Captive was presented to the public.
1930
At the end of the twenties and beginning of the thirties, Tavannes Watch Co created new kinds of watches like "La Captive" or the Belt-Watch, which consisted of completely new concepts at that time. These were followed by "waterproof" wristwatches, as well as wrist-chronographs equipped with Valjoux movements. March 19, 1930 Foundation of the Cyma Watch Company - Cyma Watch Co.
1931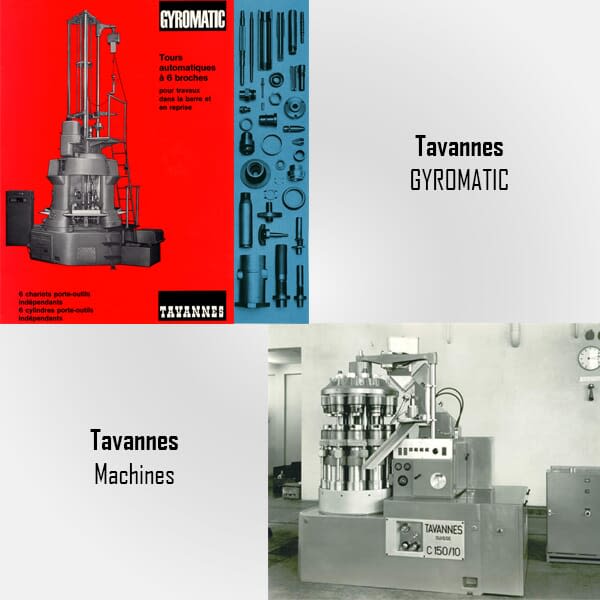 In 1931, the TMCo started manufacturing its famous Gyromatic, a 6-spindle vertical automatic lathe. This machine for turning large parts in large series, existing in three versions, quickly met with worldwide success.
1934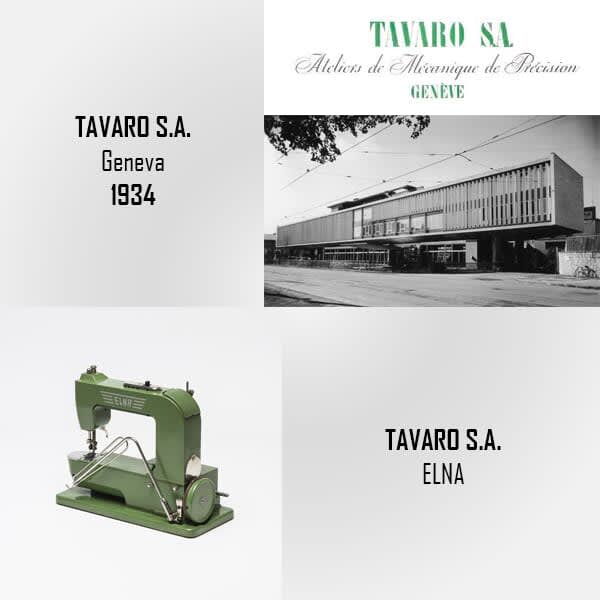 The precision mechanics company Tavaro SA was created in 1934 in Geneva by the watchmaking group Tavannes Watch Co. in order to produce the famous sewing machine named Elna.
1938
In half a century, Tavannes built five factories in Switzerland, and became the fourth largest watch manufacturer in the world. At that time, they employed over 2,000 skilled watchmakers and produced over 4,000 watches a day. Creation of Tavannes Machines Co. (300 employees).
1940
A huge fire destroyed several buildings of the factory as well as most of the archives.
1943
In 1943, the CYMA brand was used more and more for the retail of Tavannes watches. The company launched its first automatic movement, the caliber 420, with a swinging arm winding in one direction. This movement was fitted into the square cased « Watersport » model, for example. The Tavannes Watch Co Distributor Network was based out of the whole world.
1946
In 1946 Tavannes Watch Co used the Chronomat 217-012 patent with a movement based on Venus 175.
1950
With over 300 patents obtained for mechanical and automatic timepieces, Tavannes was producing movements for most of the famous Swiss brands. Many of these innovations are still used today.
1955
Around 1955 - 1957, the "Autorotor" self-winding caliber 485 was launched. It's now a collector's item.
1966
In 1966, Tavannes Watch Co continued to sell movements to other watch brands until 1982 and then concentrated in the production of specialized numeric command machines (Tavannes machines) for the watch industry.
1968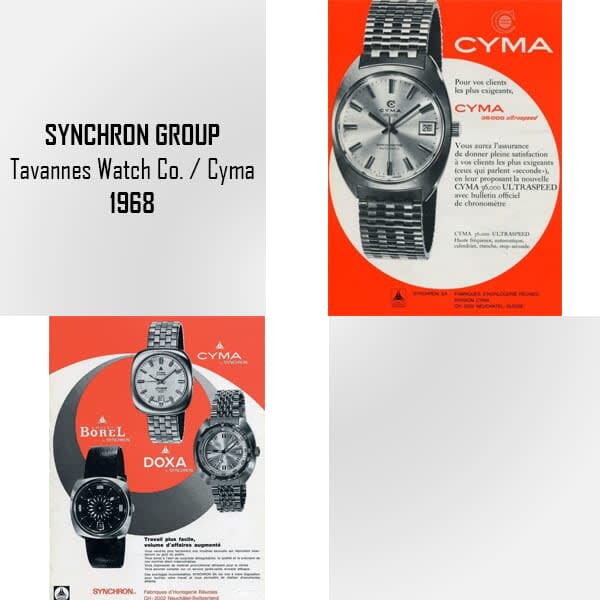 In 1966, ASUAG (today SWATCH GROUP) created Chronos Holding to manage new acquisiti ons,including the Tavannes Watch Co. and its underbrand Cyma. Chronos, in turn, created Synchron Group in 1968.
1978
ASUAG decided to dissolve the Synchron Group,Tavannes Watch Co. and its brands are sold in an aucti on to M. Claude Guilgot. The Cyma under brand took the lead and Tavannes Watch Co. is now only distributed in a limited number of countries.
2002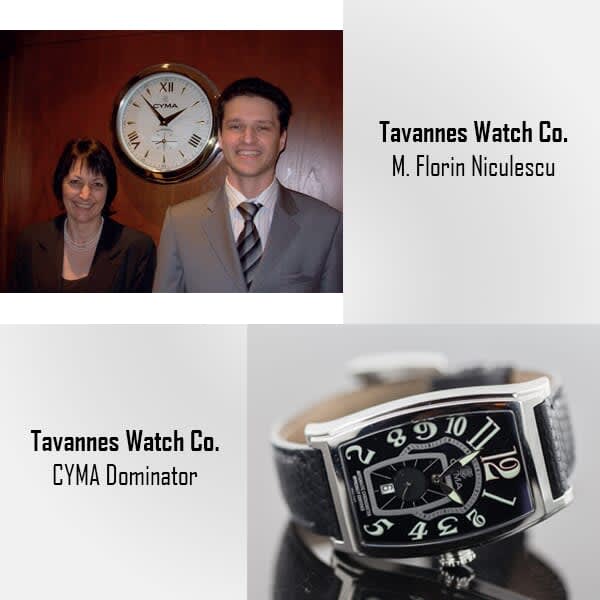 Florin Niculescu is hired by Claude Guilgot and became the president of Cyma USA in 2006.
2008
Tavannes Watch Co. brand is taken over by the Niculescu family. Re-implantation of the Tavannes Watch Co brand, which comes back with a new generation of watches, more reliable and superior quality. Several collections, limited editions as well as a few rare unique pieces.
2009
Tavannes Watch Co. brand deployment in the US market, following the steps of the family business from the Sandoz and Schwob families.
2014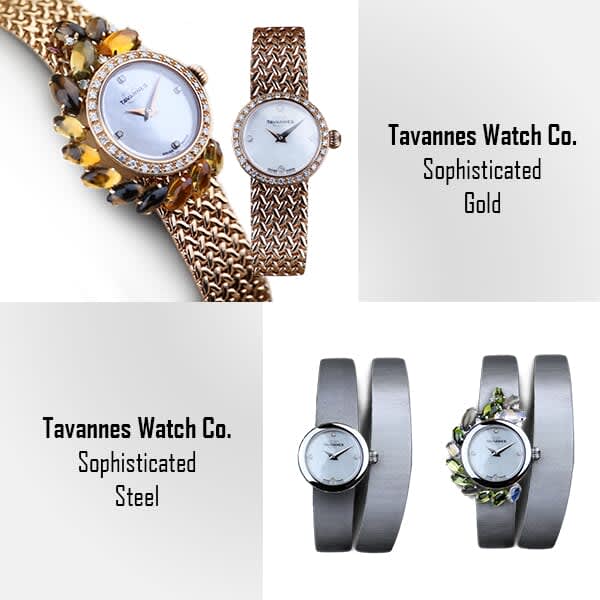 Tavannes Watch Co. presented the Sophisticated, a lady's watch that can change with a special "bezel ring" feature to give the watch diff erent look.
2016
Tavannes Watch Co presented the Superb Gents COSC Certified collection.
2017
Tavannes Watch Co presented the Submarine 1917 Collection at the JCK, the revival of the first advertised waterproof watch of Tavannes Watch Co in 1917. Limited Edition to 100 pieces for the 100 years anniversary.
2018
La Captive, the New Belt Watch is about to take shape. New design, new materials, new technology will make it possible for this timepiece to be worn as a wristwatch, golf belt watch, as well as a desk watch all inspired by the history of this timepiece.
2019
Tavannes Watch Co acquires a watch manufacturer with 20 years of experience, UM2, located in La Chaux-de-Fonds.
2020
Tavannes Watch Co had always worked with schools and students and mandated this year several students to work on a special project which became the BUGGY watch.
2021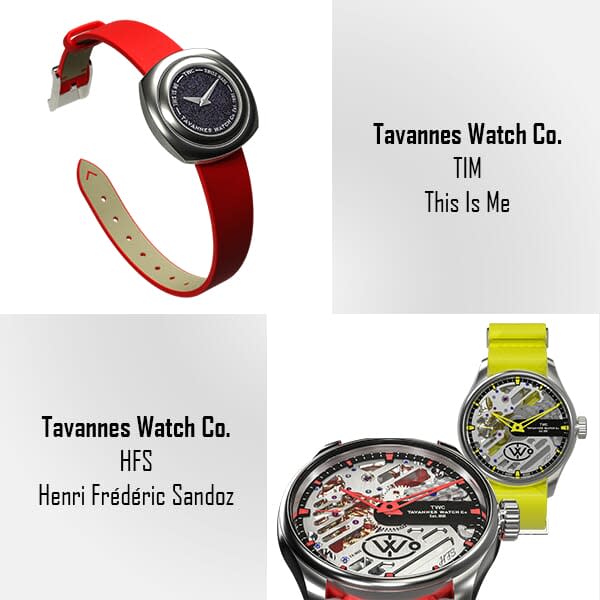 TIM (This Is Me) a lady's watch directly in the continuity of the Sophisticated developed several years before.
For its 130 years anniversary Tavannes Watch Co is working on the HFS (Henri-Frédéric Sandoz) classic collection based on an historical Tavannes Watch Co. caliber.
To be continued…
The return of the most innovative watchmaking brand of the 20th century
TAVANNES TIMES THE WORLD
ESTD. 1891